Zam Fray
Character Information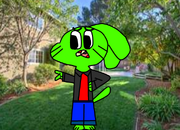 Zam is a minor character who attends Emlore Jr high along with the other children of Elmore.
Personality
Zam is really a go with the flow free spirt type thats always hanging around Elmore waiting for the next adventure to spring up.Doing things from playing video games to building strange contrapions.While a good student in class Zam is constantly forgetting things that others normally wouldn't which would come and go at bad times, encluding when he joins in on Gumball and Darwins plots which he usually has a hand in setting.
Friends
Gumball
Zam thinks of gumball as a good friend and generally will almost always go along with his crazy schemes no matter how stupitd or unsafe they are.Zam also enjoys hanging around with gumball and Darwin and often invites them over for video games.
Darwin
Zam Almost always gets a laugh while having Darwin around due to his navie nature that Zam often mistakes for Darwin just being funny. He often invites Darwin and gumball over for video games after school.
Penny
Although Zam doesn't know much about penny he generally thinks of her as a friend and is always encourging Gumball to go and try and ask her out.
Interest
Video games
Adventuring around
Watching Tv
using the Internet
Appearance
With green fur, long ears, and a cats tail, zam is rather easy to notice.Even more so due to the fact that he can almost always be found wearing a black jacket over a plane red shirt.
Gallery
Community content is available under
CC-BY-SA
unless otherwise noted.