The Vegas
is an episode in The Amazing World of Gumball.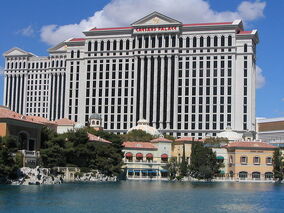 Synopsis
Nicole, Richard, Darwin, Gumball, Anais have a vacation to Las Vegas, NV.
Plot
The Wattersons is in car. They're goes to Las Vegas, NV. Nicole is driving in car in Interstate 80, then Interstate 15 in Utah, then Interstate 15 in Nevada. They come in Caesars Palace, The Strip.
Quotes
Nicole: What you much trouble?
Gumball: No. But, where they go?
Nicole: Las Vegas.
Gumball: Where is located?
Nicole: Clark County, Nevada.
Gumball: Oh, I'm know Nevada, but Las Vegas not.
Richard: Oh, is very impossible.
Anais: No, Daddy. It's city who have many casinos including Caesars Palace, Paris, Excalibur.
Darwin: Oh, much casinos.
Nicole: Quiet! I'm much driving in 6 hours.
All: Okay!